Mediate JMM
Last Updated:
27/06/2022 - 05:04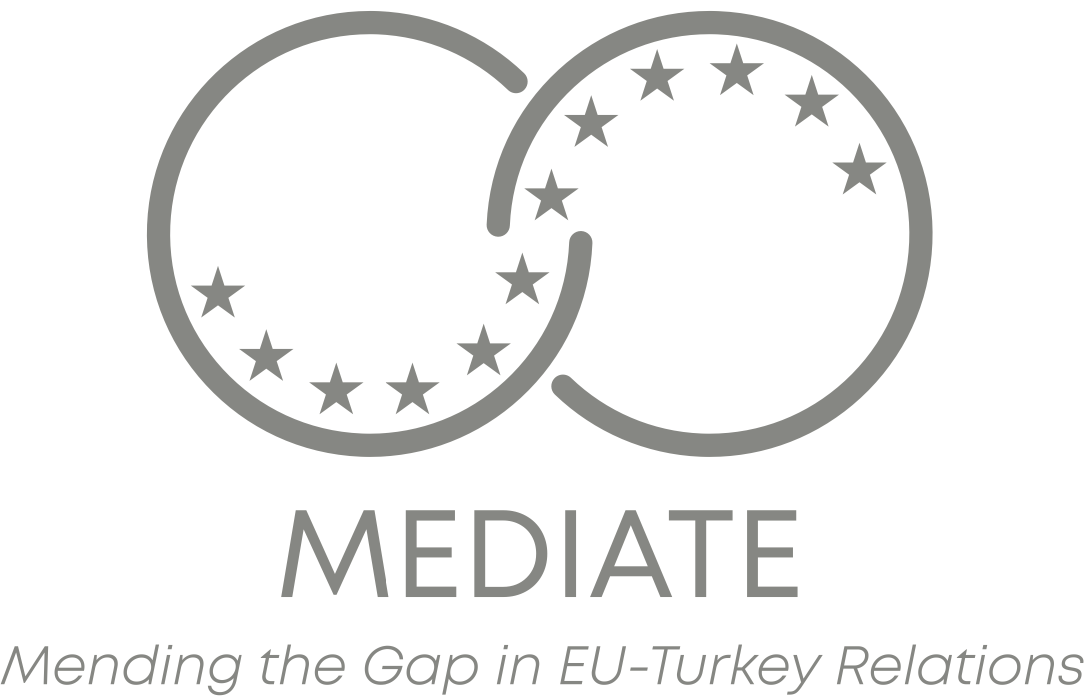 What is MEDIATE?
MEDIATE (Mending the Gap in Turkey-European Union Relations in the Post-Pandemic Era) is a Jean Monnet Module project, awarded its 2021 call. It is a three-year project (2022-2025) implemented by the European Studies Graduate Programme at Middle East Technical University.
Aims and Objectives
MEDIATE is designed with the genuine interest in discussing and elaborating on the current dynamics and future of Turkey-EU relations as a major topic of European Studies discipline in Turkey. MEDIATE proposes to bring into discussion the current dynamics, actors and events in Turkey-EU relations from a global perspective. It aims to broaden the perspective of the students on Turkey-EU relations by providing them with a variety of theoretical approaches and dynamics to better understand and evaluate the course and current state of relations. To realise this goal, MEDIATE commits to create a network for senior and junior academics, young researchers, graduate students, together with members of NGOs, international organisations and civil servants to share their accumulated knowledge and expertise on Turkey-EU relations.
Learning approach and intruments:
To tackle innovation and sustainability in European Studies in Turkey, MEDIATE uses various innovative and sustainable channels for distance learning (i.e. an free and open graduate course designed for distance learning), learning by doing (i.e. an EU simulation) and life-long learning (keeping interested individuals in the circle of constant learning).
Dissemination:
The accumulated knowledge generated through this project will be disseminated to a wider audience through various means like MEDIATE website and social media account of the module itself, conferences, workshops, panels, seminars, and other dissemination activities. As a result of the long process of teaching, learning, experiencing, internalising and sustaining the idea of Europeanness, MEDIATE will contribute to reduce the narrative gap between the enthusiastic young and the senior policy-makers in Turkey about the future of Turkey-EU relations.
.
Expected outcomes:
MEDIATE aims to further foster the development of novel teaching, research, debating activities and knowledge exchange between academics, students, young citizens, civil society and political actors in order to support the European Studies in Turkey. MEDIATE will also hopefully contribute to decrease the gap between generations in Turkey for the sake of the positive development of Turkey-EU relations in the post-pandemic era.
.
Project activities:
MEDIATE is composed of three main learning activities and a series of other academic events. These are as follows:
- Online graduate course - Turkey-European Union Relations in a Global Perspective
- MEDIATE Summer School – Turkey-EU at a Glance
- Simulation for the Future of Turkey-EU Relations (SİM@RTER)
- Workshops, conferences and events:
Workshop: What's in Store for Turkey-EU Relations?
Session in National Conference: The Future of Turkey-EU Relations
Post-graduate Conference: Current Issues in Turkey-EU Relations
Closing Event: The Future of European Studies
Follow Us!

@mediate_jm_module